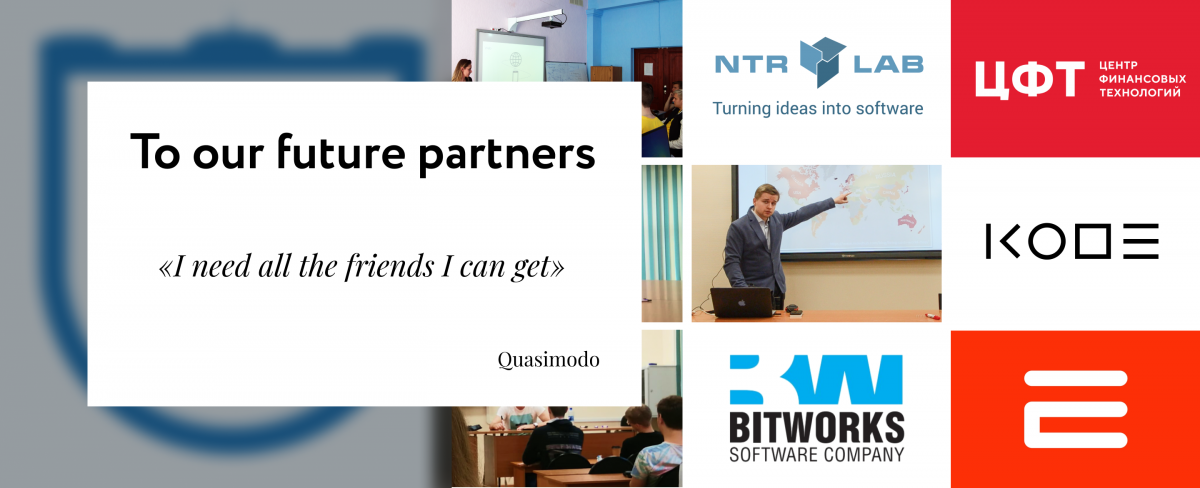 Recently, there has been a heated discussion on the quality of IT education in our country. HITs has a very clear stance on this matter: let us solve the problem instead of arguing. — We understand that it is impossible to build a modern high-quality software engineering school without interaction with IT companies. Therefore, we are in for any joint activities if they are far from being boring.
Our offer for partners includes:
 
 

The opportunity to evaluate and influence the professional training of your future employees in the learning process before their employment and internship.

 

 
 

Students' feedback.

 

 
 

An opportunity to train your future staff. As partners of the programme, you will have a resource for building and training project teams, whose abilities will be no secret for a future employer.

 

 
 

Easy onboarding of graduates into your organization.

 

 
 

Internally sourced long-term or science-based developments and projects that are usually difficult to fit into the business cycle.

 

 
 

An option to motivate your current staff — additionally by letting them share their experience and work together with motivated students.

 

 
 

The opportunity to achieve various ambitions, for example:

Internal company courses answering the needs of your employees. With the resources of the university, our platform allows us to develop these courses, test them, and improve them.

​

Design of high-quality technology-oriented programmes for professional development and continuing professional education.

​

Reputational conferences and projects that require partners and platforms for implementation.

 
​
Currently, we have two types of successful cases to offer:
 

One-time joint events (hackathons, professional events, guest lectures, etc.)

If you want to organize a joint activity for HITs students and professors to participate, we would be happy to consider such an invitation.

 

 

 

Strategic partnership

Usually, the first step along this path is the combination of HR strategies. The school provides the partner company with developers, and the company supports the young academic staff of the school. At the end of the second year, the partner company interviews HITs students who have chosen a professional track for an internship in the company as a junior developer (the company might choose the professional profile it needs: analyst, QA specialist, Data scientist, etc.). As a result, there will be a group of students (usually about 5), who in the 3rd or 4th year of their study will have the internship in your company for at least 20 hours a week. This work placement is an integral and crucial part of mastering the academic programme. In case this form of partnership between the Higher IT School and the company is chosen, it is necessary to formalize it with at least a package of documents, the templates of which can be found in the Documents section of this site. This leads to creating a new crop of about 10 (5 third-year students and 5 graduates) young, motivated, talented employees who, by the time they graduate, will have been fully integrated into the business processes and corporate culture of your company. Further, there might be many options to consider: joint start-ups, research and development projects, grant projects, etc. Keep in mind that we are in for any joint activities, except boring ones, and if it would be a profitable event, it is only for the best.

 
The options described above are well-established practices in school life, but it is far from being a complete list of opportunities. For example, if you want to become a recognized sponsor of our school and are ready for a step as serious as taking responsibility for the future of computer science and software engineering in our country, we will be happy to consider options for you to be a recognized partner of the school.
*On this page we use epigraphs from the MYTHs cycle by Robert Asprin..
Documents: